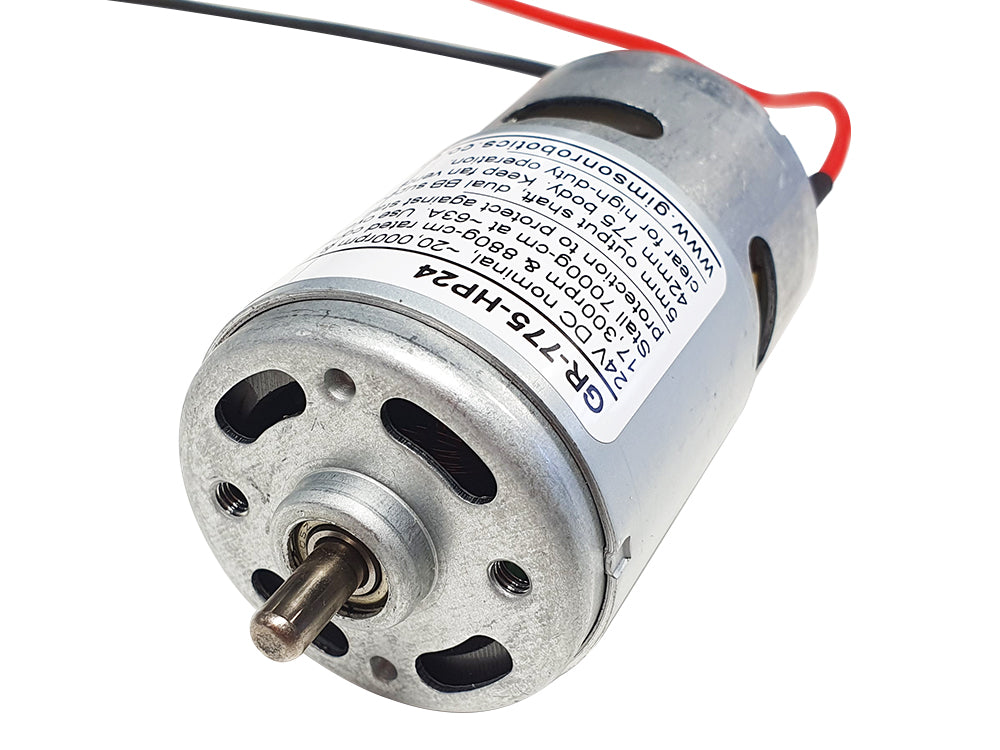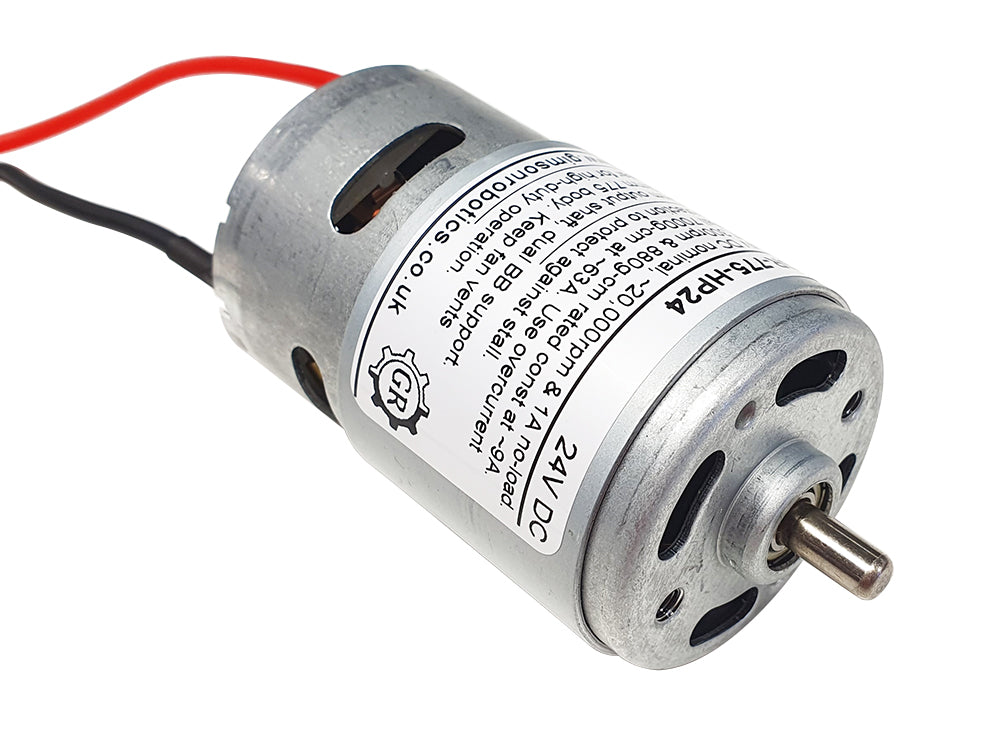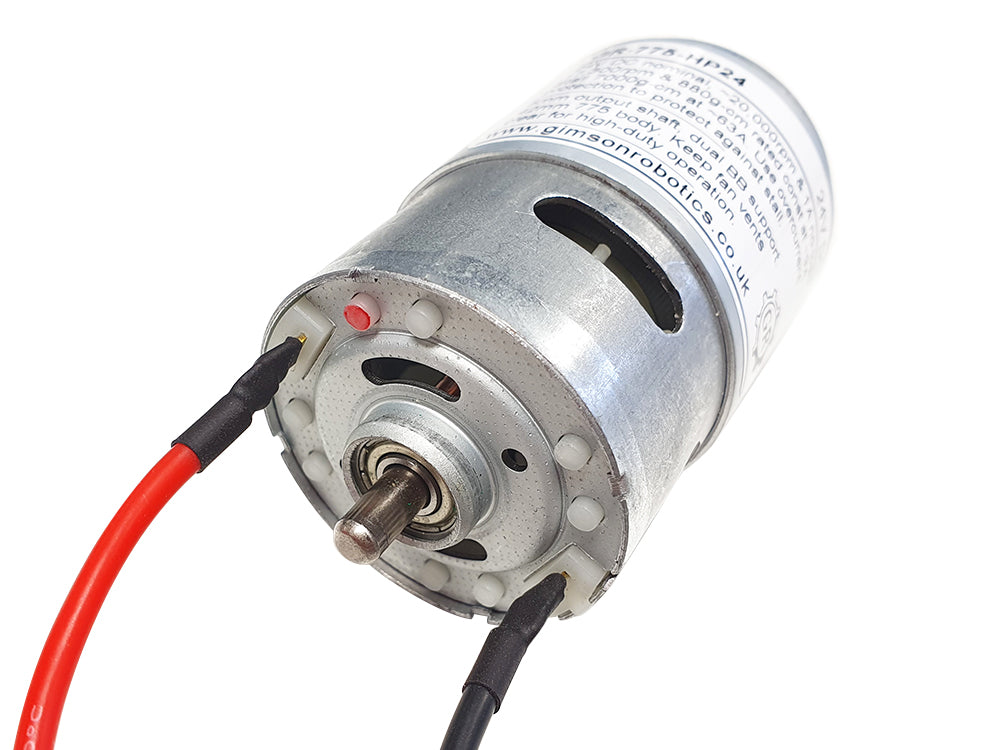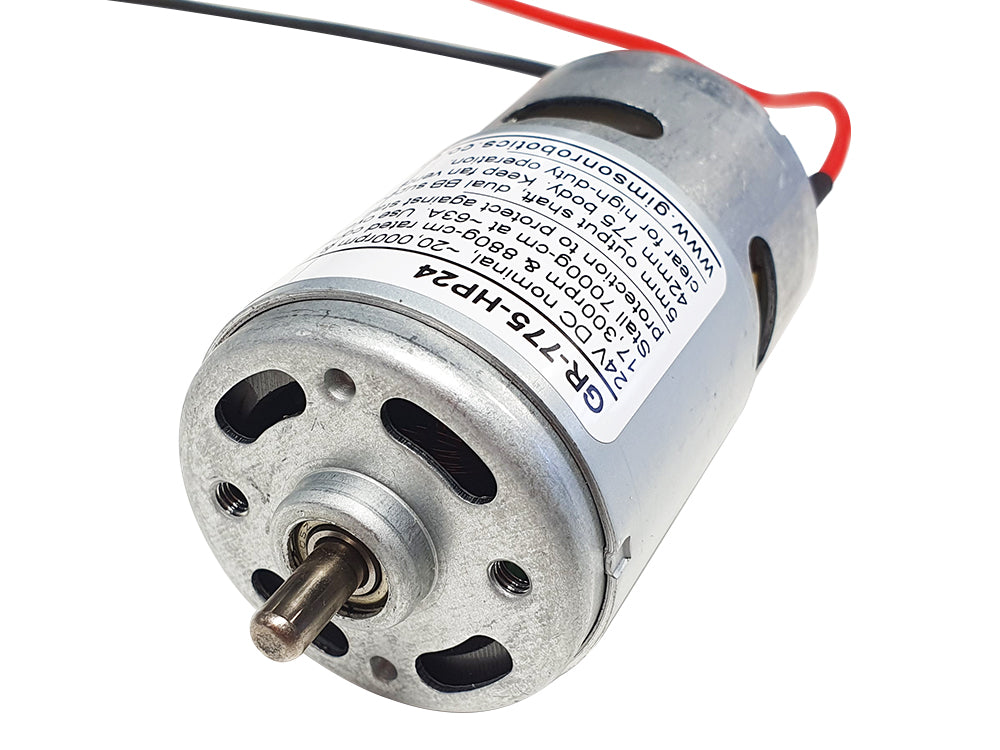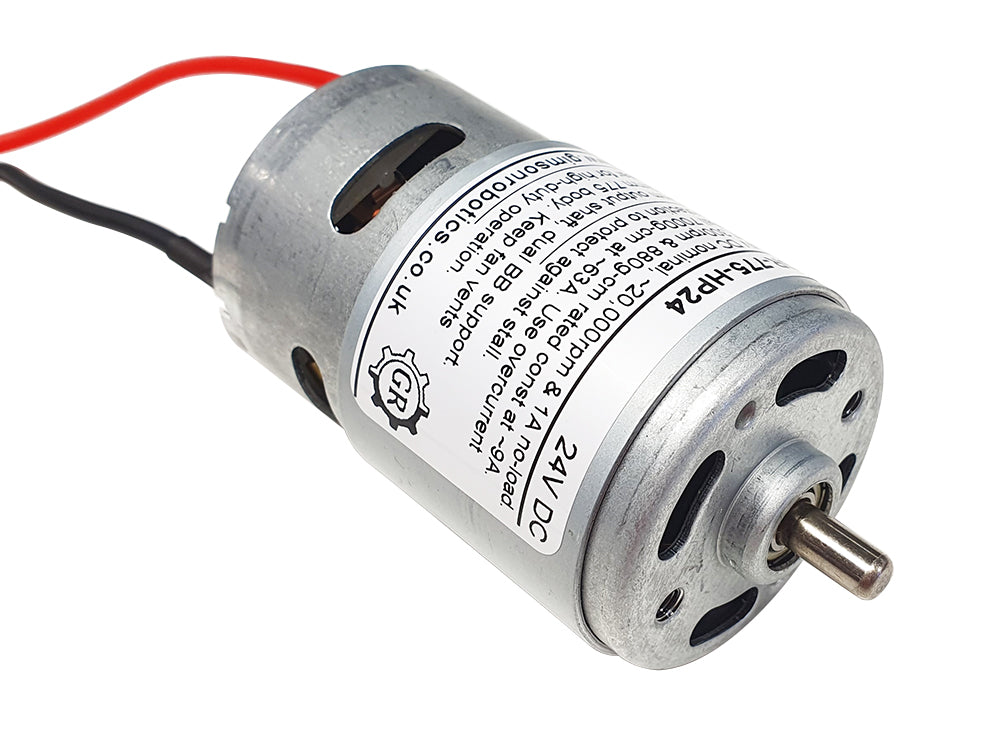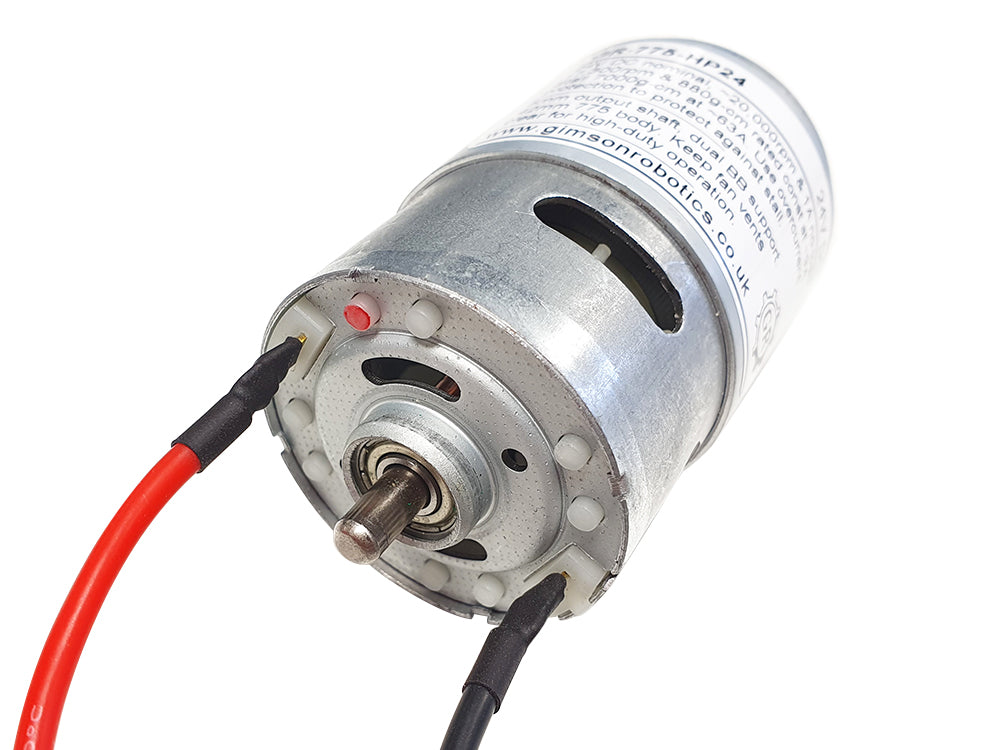 GR-775-HP24 High Power 24V DC 775 Electric Motor
This compact high-powered motor is exclusive to Gimson Robotics. The body is a '775' can type, approximately 42mm in diameter by 94mm long (overall), with a 5mm diameter output shaft and two M4 mounting holes.
Despite its small size the motor is rated up to a maximum 150W continuous output power. 
See below for more information.
Regular price
Sale price
£15.80
Unit price
per
(each, exc VAT)
Availability: IN STOCK
SKU: GR-775-HP24
---
The rear of the motor houses a built-in cooling fan which is crucial to enabling the high power output from the motor. As such, you should not cover the air vents at the rear of the motor unless you are only operating under low duty cycles and with low output loads.
The rear shaft of the motor extends by ~8mm, which can be used either to drive a load from both ends, or more-commonly to mount an encoder, or even an electromagnetic brake.
Leads Options
The motor is supplied as standard with ~200mm long silicone-insulated cables (16AWG, high temperature rated), with bare tinned lead-ends ready for connection. Options are provided above to extend these cables to 500mm or 1000mm total length. Allow for one extra working day to process your order if one of the lead options are added, since these are soldered and insulated to-order.
User Advice
This motor operates like any other DC motor and so may be used at voltages other than the nominal 24V with changed operating characteristics (please be aware that the warranty does not cover operation above 24V, which is likely to shorten the lifespan). Reducing the voltage reaching the motor will decrease the output speed and current for a given load, while increasing the voltage will increase the speed and the current.
To change the direction of rotation invert the polarity of the power to the motor contacts (swapping positive and negative). Ensure that your control hardware and power source are capable of supplying the high currents that this motor can demand (up to ~63A at stall). You should fit circuit protection to protect both the motor from stalling/overheating and your power source from overload. At a minimum this would be a fuse in series with a motor, but you might want to fit a more sophisticated protection device such as the GR-SENS instead.
If you're unsure about selecting the appropriate motor for your application please send details of your project to us and we'll guide you through the options.
Motor Performance (at nominal 24V)
Max efficiency speed
17,200 rpm
Max efficiency torque
880 g-cm
Max efficiency current
9 Amps
Maximum power speed
10,000 rpm
Max power torque
3520 g-cm
Max power current
32.1 Amps
Max power output
356 Watts
Highlighted values should not be reached, stalling causes rapid overheating
You should use mechanical and/or current-based protection to protect the motor from overload (using for example a clutch, fuse, or digital current limiting switch), since if is operated at too high a sustained load, or allowed to stall, the motor could quickly overheat. The maximum power output can be realised, but only for short periods, and provided that the motor is sufficiently cooled.