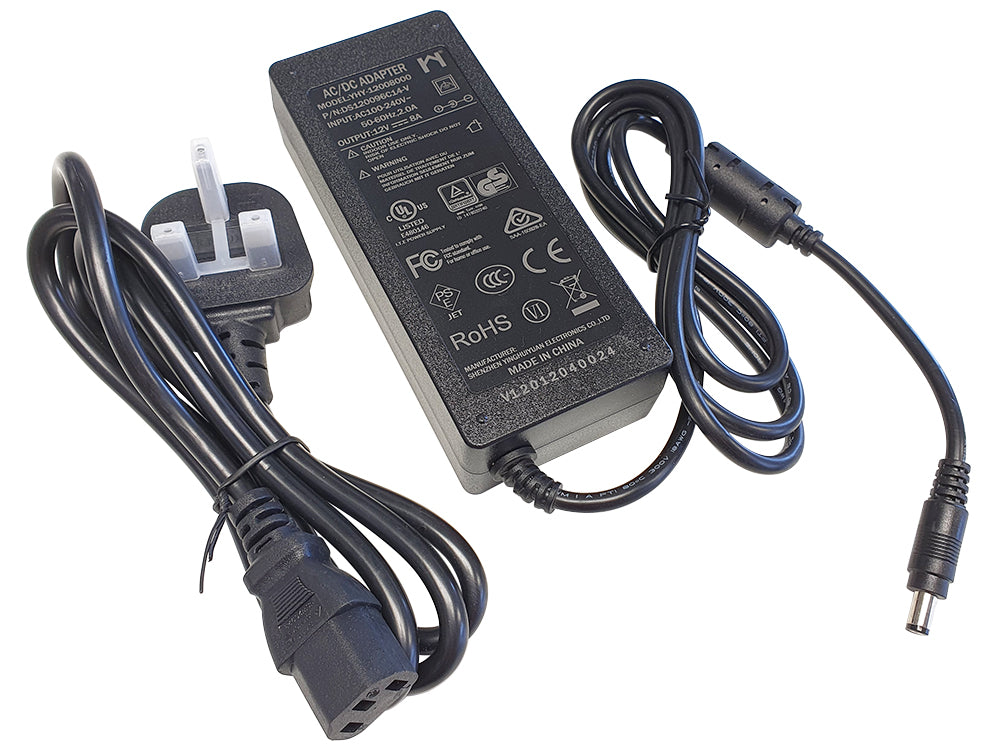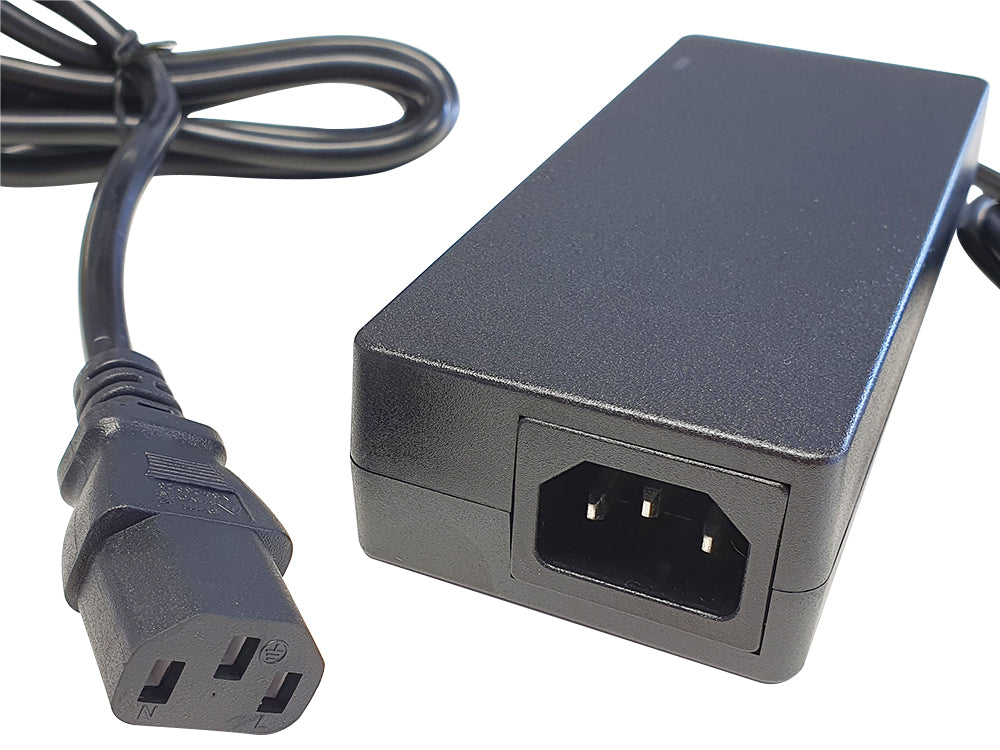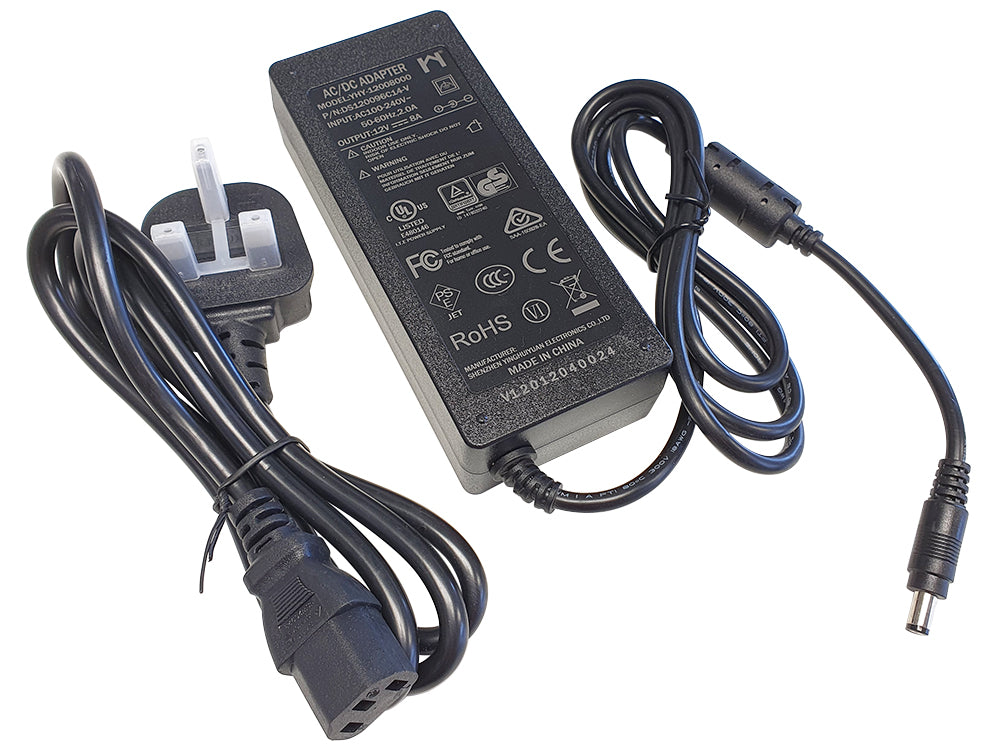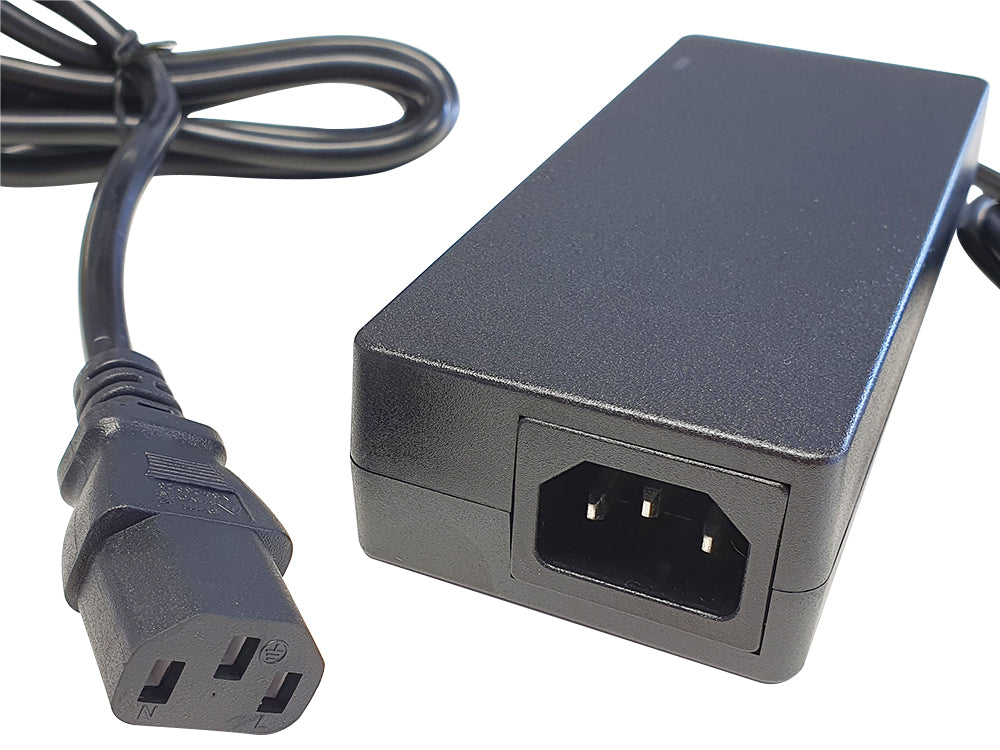 AC to 12V DC 8A Power Supply/Adapter for Motors & Actuators YHY
These 12V DC high-efficiency power supplies are made specifically for Gimson Robotics, with output settings optimised for running electric motor and actuator loads. Each is capable of supplying up to 8A at up-to 30% duty, 5A at 100% duty, as well as providing a peak of up-to 15A for very short periods. 
The adapter is configured to handle the short spikes in current demanded of inductive loads (DC motors), which many other power supplies designed for resistive loads (LED drivers) cannot, whilst maintaining automatic overload (and short) protection.
Each adapter has a rectangular body, with a 1.1m output lead running from the adapter block to a male DC barrel connector (2.1 x 5.5mm). An IEC C14 connector in the side of the adapter matches up with the included C13 mains cable, with a 3-pin UK fused plug (3A fuse).
The power supply can accept an input of between 100V~240V AC, 50/60 HZ. 
Regular price
Sale price
£24.60
Unit price
per
(each, exc VAT)
Availability: IN STOCK
SKU: YHY-1208000_UK
Unlike many similarly-sized power supplies this power supply is capable of powering medium sized electric motors (inductive loads) without cutting out when the motor starts-up. Additionally, this power supply offers far better efficiency than many others (Class VI standard), with a very low idle/standby power consumption.
The maximum duty cycle rating of the power supply is 30% at 8A. This is the maximum percentage of the time that the load should be active at 8A. If the average load current is kept much lower than 8A the duty cycle can be increased, up to 100% (continuous) duty for loads of LESS than 4A.
To give examples of the supply's capability, it may power up to two GLA750 or GLA200 actuators simultaneously, or two GLA800-N or GLA1500-N actuators. It can also power a single larger GLA3000-N model up to 60% of its rated load capacity.
This power supply is suitable for indoor use only. Every power supply is tested under load before sending. If you have any questions about this item, or suitability for your application, please contact us.
Specifications
Input Voltage
100V~240V AC, ~2.0A 50/60 Hz
Output Current
Up-to 8A for <30% duty (up to 2 minutes continuous), 15A for <1s peak, and up-to 4A continuous
Operating Temperature
-10°C ~ +40°C (ensure that free air flow is allowed around the body)
Enclosure Outer Size
140 x 60 x 35mm (excluding leads)
Case Material
Plastic, Double insulated electrical device
Weight
380g, add approximately 180g for the included mains lead
Input Lead
Either
UK 3-pin 3A-fused C13 Lead (between 1.1m to 1.8m long depending on availability)
OR
EU 2-pin-and-Earth Schuko C13 Lead (between 1.1m or 1.8m long depending on availability)
Output Lead
1.1m long with Male DC connector 2.1 x 5.5mm
Output Protection
Automatic overload protection, for detected currents >15A, with automatic reset
Efficiency Rating
Class VI, high efficiency, with low standby power consumption
Product Standards
Please note that CE and FCC documentation is also available for this power supply upon request, however we do not have a registered office address in either the US or the European Single Market.