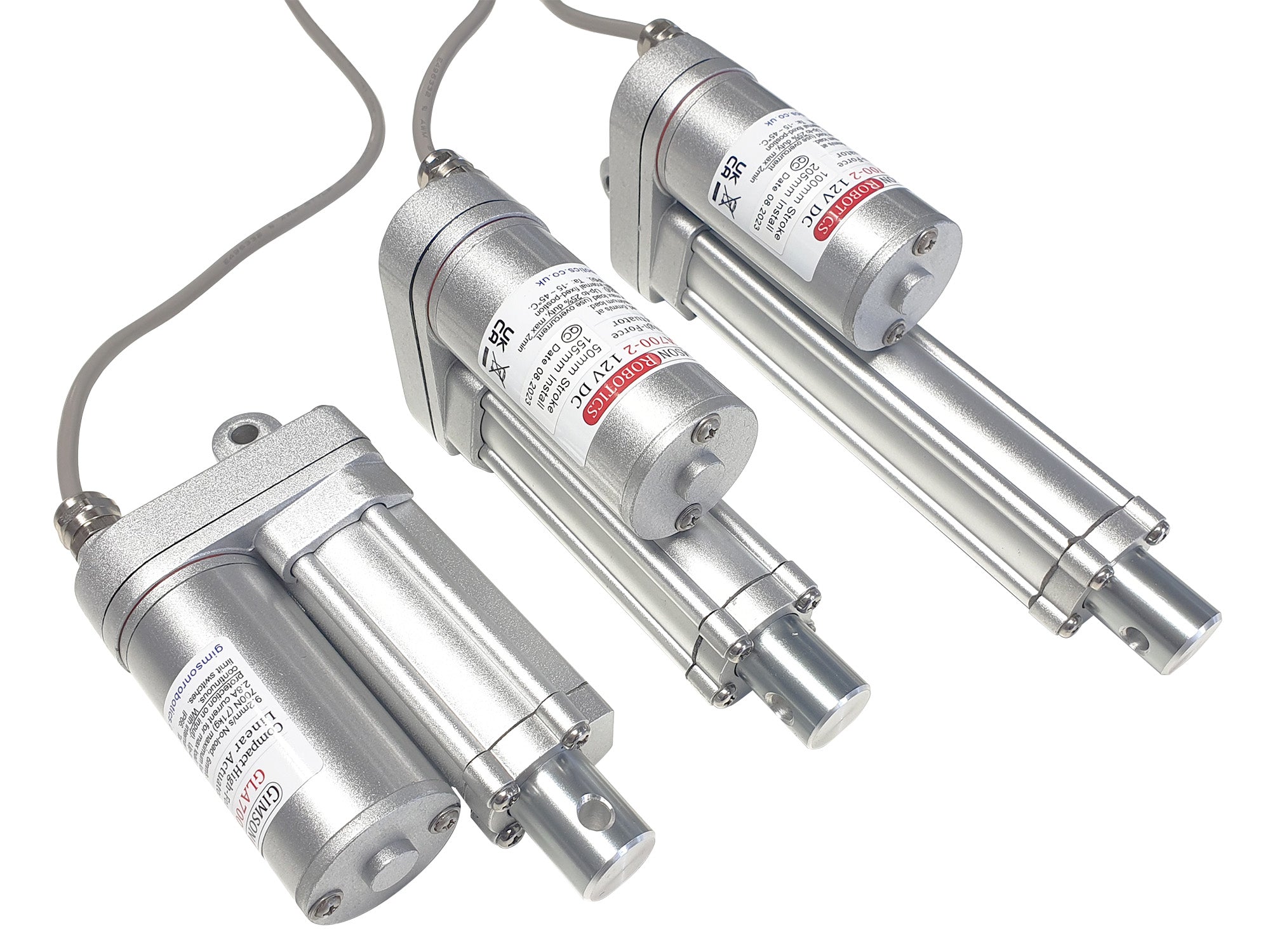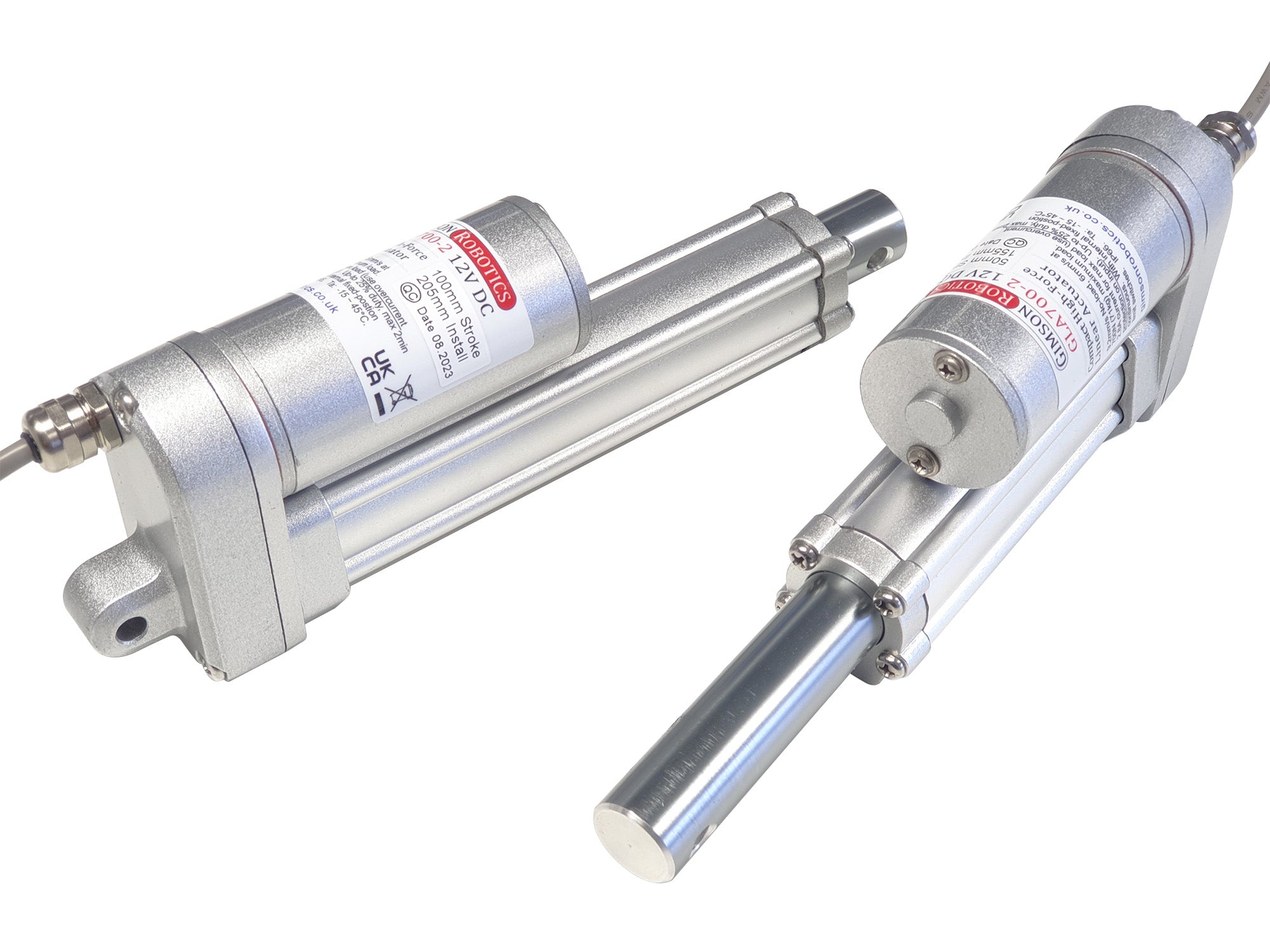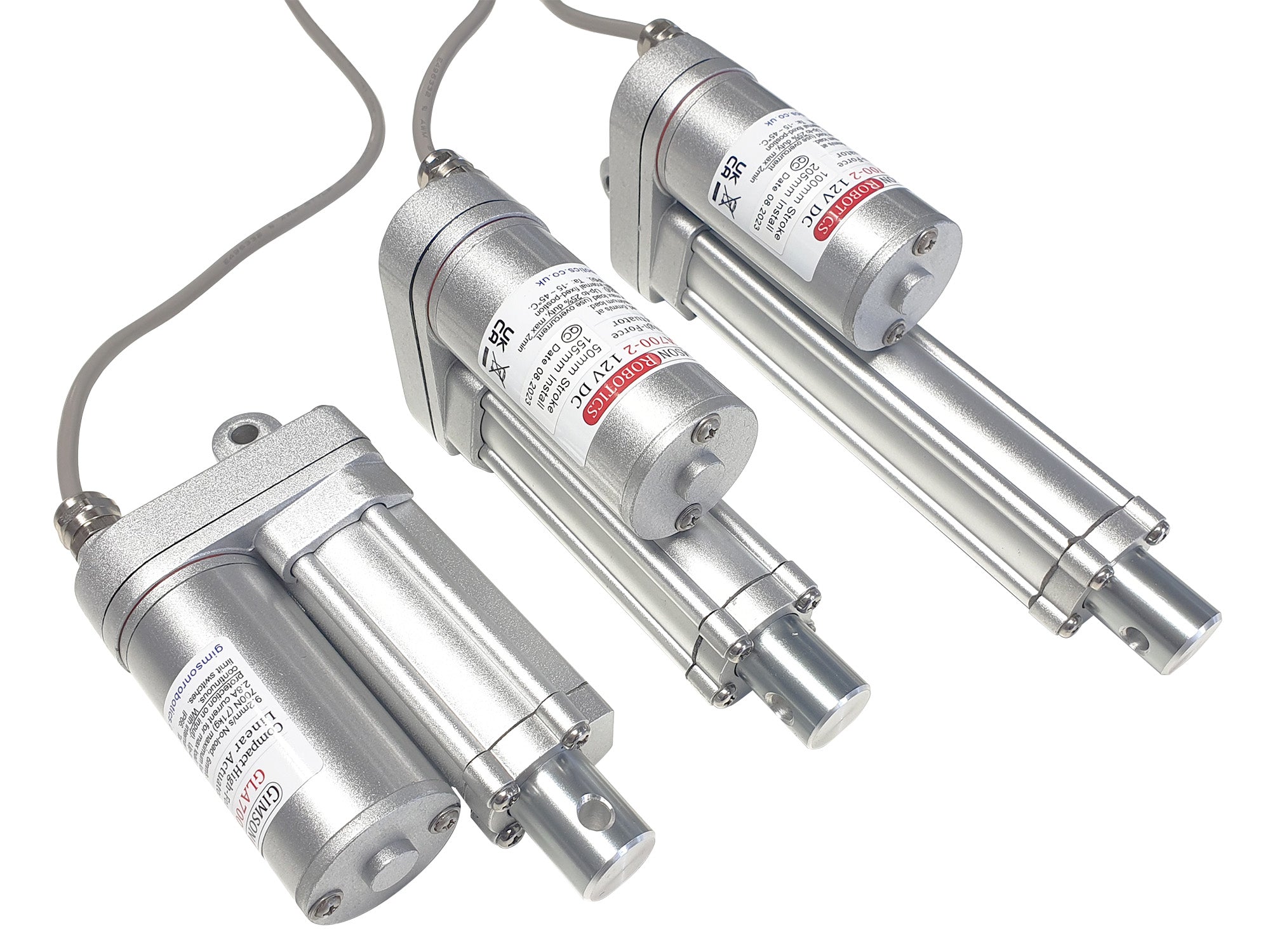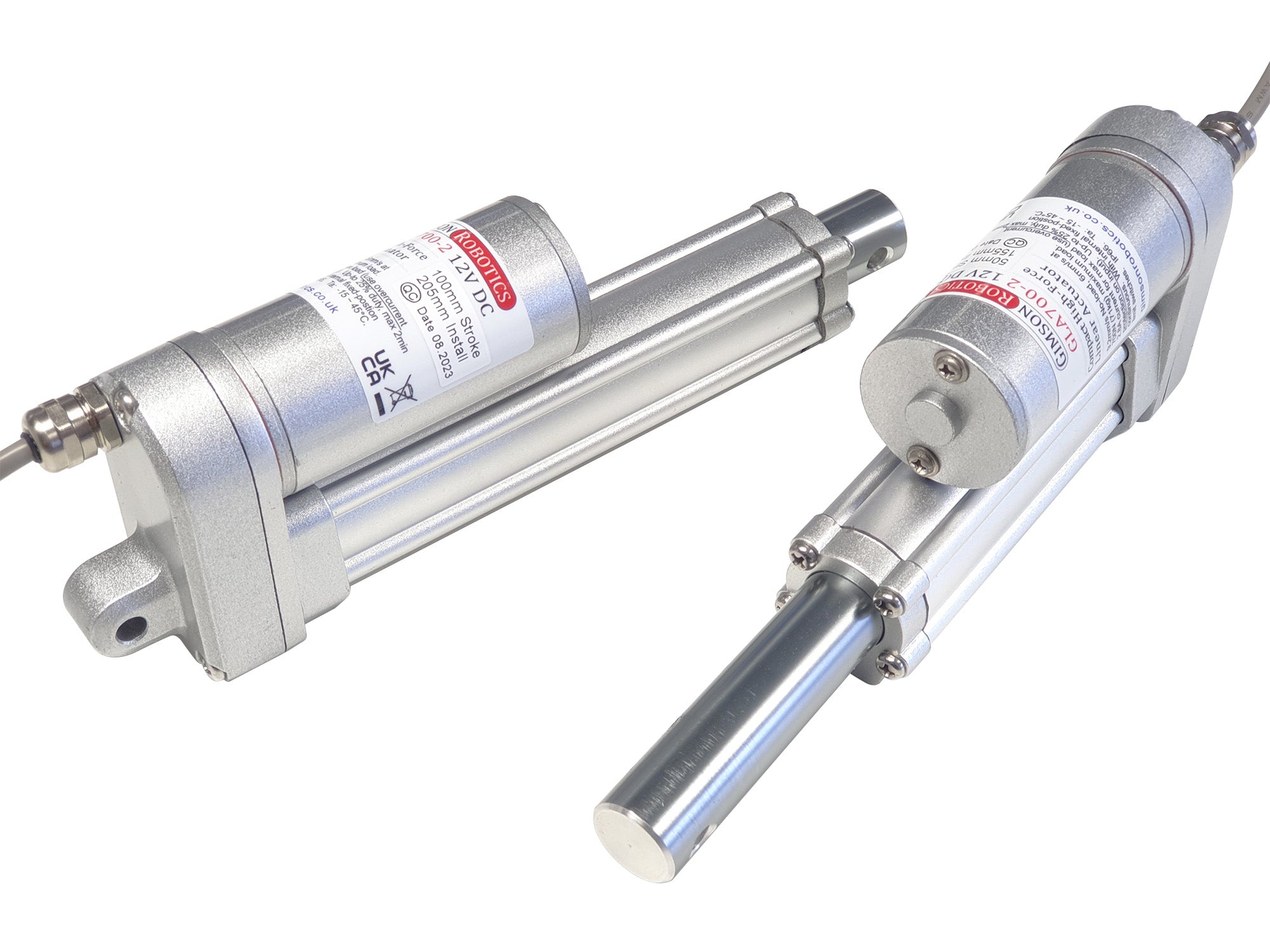 GLA700-2 12V DC Compact IP66 Linear Actuator
Custom options
are also available, please
contact us
for more information
The GLA700-2 is a small-sized linear actuator with a high build quality and useful load capacity of up to 700N (71kg). The actuator has a no-load running speed of 9.2mm/s and a full-load speed of 6mm/s.
This model is currently stocked in three different stroke lengths (travel distances) of 30mm, 50mm and 100mm. 

This model offers improvements over our older GLA750 actuator, including a more-stylish body construction and higher quality seals (with a IP66 enclosure rating).
Please see below for more product details.

Regular price
Sale price
£68.40
Unit price
per
(each, exc VAT)
Availability: IN STOCK
SKU: GLA700-2-30mm
---
The GLA700-2 offers the build quality of higher-cost actuators at an affordable price, with a small body size ideal for providing electrical automation in tight spaces. The operating voltage of 12V DC makes it suitable for powering from a standard lead-acid battery, or running from a mains to 12V DC adapter.
The shallow lead-angle of this actuator (with a 3.175mm pitch, single-start screw) means that if the actuator is driven into a position it will tend to stay in that position unless power is applied once again, or unless it is subjected to a load larger than the rated load.
The outer enclosure features O-ring seals under every external screw head as well as gaskets at each seam and a sturdy wiper ring about the extending rod. This design adds up to an IP66 enclosure rating, suitable for most external use. Bear in mind that the actuator should not be submerged in water, or exposed to continuous running water. If mounting outdoors it is best to orient the extending rod tilted downwards, so that water tends to run away from the moving seal between rod and body.
Please be aware that, with its all-metal spur gear transmission, this actuator model is not intended to be especially low-noise by design. If your design requires low-noise actuators please ask us for advice on other alternatives.
The actuator is supplied with a 0.8m PVC insulated lead as standard (black external sleeve with two internal cores), with bare tinned lead ends. Please contact us if you require a customised lead or connector option.
User Advice
As with any brushed DC electric motor, the direction of travel is affected by the polarity of the current supplied to the two motor wires. Controlling the direction the current may be achieved using hardware such as our rocker switch harness, or
GR-MOT1 control unit
. By varying the input voltage between 0-12V DC it is possible to control the speed of the actuator. Reducing the voltage will also reduce load capacity (for example at 6V the actuator will have roughly half of the maximum load capacity as at 12V, and run with roughly half the no-load speed). As with any DC motor the actuator may be run at a higher voltage than the nominal 12V DC however operation at higher voltages
will invalidate the warranty
as it creates an increased risk of premature failure.
Shock loads through the mounting points should be avoided (shock/impact loads may impart a force greater than the rated load through the actuator).
Be aware of the 'duty cycle' rating of the actuator, which determines the maximum proportion of the time that the actuator should be in operation for, to prevent overheating and ensure longevity. This is specified under 'Operating Characteristics' below.
Ensure that the control hardware and power source are capable of providing sufficient current for the loads you expect the actuator to experience. We cannot be held liable for damage caused to connected hardware due to inappropriate hardware selection.
A fuse, and/or other overload protection (such as active current monitoring), should be used to protect the actuator against stalling due to an overload, which can permanently damage the motor.
Device Safety
Electric actuators such as this model are low-voltage electromechanical components that are used in a wide variety of different applications. It is important that the safety of each installation is assessed according to its own requirements, construction, end user and environment. Be sure that you have checked suitability, including any fail safes appropriate to your application, before use.
CAD models (STEP, IGS, Autodesk Fusion 360) of the actuator are available upon request. Contact us with the size(s) and file formats that you require and we'll attach the files in return.
A PDF copy of the actuator datasheet
can be downloaded here
.
Operating Characteristics
Motor
12V DC brushed permanent magnet motor, up-to 35W
Speed / Force
9.2mm/s no-load, reducing to ~6mm/s at the full rated 700N
Operating current
No-load: ~0.8A
Maximum load: 2.8A. If using overcurrent detection to protect the motor, ensure that this is sensitive enough to react quickly to an overcurrent event.
Maximum load
700N (71kg) for supported (linear) loads.
The maximum load should be reduced if the load is not supported in an axial direction, parallel to the movement of the actuator. Longer-travel actuators are affected to a greater extent by off-axis loads.
Maximum static load
1000N (102kg) in compression. Maximum 700N in tension
Noise levels
< 52dB under no-load
< 58dB under full-load
Maximum duty cycle
25%. This is the maximum proportion of time that the actuator may be in operation for, up to 2 minutes during any continuous stretch. For example, if operating for 1 minute you should then allow it to rest for 3 minutes before operating again, so as to prevent overheating.
Life expectancy
Nominal 40,000 strokes
Please be aware that there is likely to be some variation in the operating performance from actuator to actuator, allow for at least 10% difference above/below the given values. If you intend to use the actuators in sets of two or more driving the same assembly then you must ensure that the driven assembly is rigid enough to transfer forces between them effectively or else the output could twist and put excessive stress on the framework and actuators. If your structure is not very rigid, or needs to stay level throughout its travel (e.g. tabletop surfaces rising/falling level to the ground) then please get in contact to discuss automatic synchronising control options.
Actuator Build Detail
Installation length
This is the distance from the front to rear mounting hole centres when the actuator is retracted.
30mm Stroke: 135mm
50mm Stroke: 155mm
100mm Stroke: 205mm
Add the Installation Length to the Stroke Length to get the full travel distance, measured between the centre of the two mounting holes.
Mounting
Two 6mm holes. One is towards the end of the piston rod, the other is on the rear of the gearbox housing.
Body material
Painted aluminium & zinc-plated Steel, rated to IP66. Aluminium 20mm diameter extending rod.
Certifications
Operating temperature
-15°C ~ +45°C
Transmission
Four-stage spur gear reduction (all-metal gears). Total reduction ratio 21.14:1 (4sf). Made up of first stage (Teeth:Teeth) 26:14, second 27:17, third 43:12 and fourth 38:19. With a single-start 3.175mm pitch lead screw.
Limit switches
Two limit switches are installed at the ends of travel which automatically stop travel at the fully retracted and extended positions. The limit switches (normally-closed microswitch contacts) include a snubber circuit in parallel with each of them, to suppress voltage spikes during switching and minimise EMI. The snubber circuit is made up of a 60Ohm resistor and 470nF capacitor.
Due to these components being in series with the actuator motor, you should ensure that either control is only with DC currents (not via PWM), or that you have tested for compatibility with your controller and operating cycle.

Cable
0.8m long PVC-insulated, 2 x 20AWG cores (Red and Black)
Weight
When supplied with standard lead:
30mm Stroke: 730g
50mm Stroke: 760g
100mm Stroke: 840g
If you have any questions about this item, including requests for bulk-pricing information, then please contact us.